Manuals/T-USB
From ZaberWiki
T-USB - USB to RS232 serial converter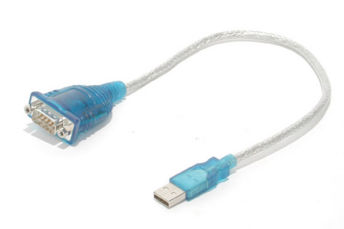 Disclaimer
Zaber's devices are not intended for use in any critical medical, aviation, or military applications or situations where a product's use or failure could cause personal injury, death, or damage to property. Zaber disclaims any and all liability for injury or other damages resulting from the use of our products.
Product Specs
The T-USB is a USB 2.0 to Serial RS232 Converter for running our Serial products (T-Series or A-Series) from a USB port.
This product is manufactured by one of the following third parties:
FTDI. Their part number is US232R-10. The chip part number is FT232R so both part numbers are applicable where drivers are concerned. Zaber switched to this brand of USB to Serial converter around November of 2009.
Prolific. It is a "PL-2303 USB to Serial Bridge Controller (H, HX, X)". The product appears to be re-branded by several other companies. We purchase the Sabrent brand (part no SBT-USC1M). All brands use the same drivers for the PL-2303 from Prolific.
Installation
FTDI
Download drivers from FTDI's driver page. The correct driver is the VCP (virtual com port) driver. Select the driver for either part number US232R-10 (the product part number) or FT232R (the chip part number used in the product). In some cases you may be asked to install the driver twice but it should work the second time. FTDI provides good driver support.
Prolific/Sabrent
The drivers are included on a CD with the product. The CD or Zip file contains the following folder structure:
USB Adapter Drivers
   \Linux Driver
   \Mac OS 8 9 Driver              - Use for Max OS 8 or Mac OS 9
   \Mac OS X Driver                - Use for Mac OS X
   \Windows Vista XP 64bit Driver  - Use for Windows Vista 
                                     or Windows XP (64bit version)
   \Windows XP 2000 ME 98 Driver   - Use for Windows XP, Windows 2000,
                                     Windows ME, or Windows 98

Within each folder there is a readme.txt file or other documentation describing the installation procedure.
Windows Vista Drivers for Prolific/Sabrent
Older versions of our software do not show a Windows Vista driver. Please note that the Windows XP 64bit Driver is the correct driver to install on Windows Vista as well.
Where to get the latest Prolific/Sabrent drivers
Zaber_Serial_Adapter_Drivers.zipThis file contains the device drivers that must be installed in order to use our T-USB USB to Serial Adapter on any Windows, Linux, or Mac computer.
We try our best to keep our drivers up to date, but if you encounter problems using our drivers or have lost the installation CD, you may check the Sabrent web site for more recent versions. Search their website for drivers for part number "SBT-USC1M".
Specifying the COM port
Both the Prolific and FTDI products may install a virtual port on an available com port. In our experience, the com port used may change depending on what usb port the device is plugged into. In Windows XP it is possible to assign a particular com port by the following method:
Plug the USB to Serial Converter into a USB port
On you desktop, right-click on "My Computer" and select Properties
On the Hardware tab, click "Device Manager"
In the "Ports (COM & LPT)" folder right click on the name of the USB to serial converter and select properties
On the Port Settings tab click "Advanced..."
Change the COM Port Number field to the desired com port and click "OK". Some com ports may already be in use and cannot be selected. If a com port is in use because of a previously installed USB to Serial converter (for example if you are replacing a Prolific converter with the FTDI converter) you may need to uninstall the old drivers (Control Panel > Add/Remove Programs) first and then repeat the above steps.
The above instructions have been tested in Windows XP. The procedure for other operating systems should be similar. If you have determined the procedure for another operating system, please consider editing this document (http://www.zaber.com/w/index.php?title=Manuals/T-USB) to add the information for the benefit of other users.
Warranty and Repair
For Zaber's policies on warranty and repair, please refer to the Ordering Polices
Standard products
Standard products are any part numbers that do not contain the suffix ENG followed by a 4 digit number. Most, but not all, standard products are listed for sale on our website. All standard Zaber products are backed by a one-month satisfaction guarantee. If you are not satisfied with your purchase, we will refund your payment minus any shipping charges. Goods must be in brand new saleable condition with no marks. Zaber products are guaranteed for one year. During this period Zaber will repair any products with faults due to manufacturing defects, free of charge.
Custom products
Custom products are any part numbers containing the suffix ENG followed by a 4 digit number. Each of these products has been designed for a custom application for a particular customer. Custom products are guaranteed for one year, unless explicitly stated otherwise. During this period Zaber will repair any products with faults due to manufacturing defects, free of charge.
How to return products
Customers with devices in need of return or repair should contact Zaber to obtain an RMA form which must be filled out and sent back to us to receive an RMA number. The RMA form contains instructions for packing and returning the device. The specified RMA number must be included on the shipment to ensure timely processing.
Email Updates
If you would like to receive our periodic email newsletter including product updates and promotions, please sign up online at www.zaber.com (news section). Newsletters typically include a promotional offer worth at least $100.
Contact Information
Contact Zaber Technologies Inc by any of the following methods:
Phone
1-604-569-3780 (direct)
1-888-276-8033 (toll free in North America)
Fax
1-604-648-8033
Mail
1777 West 75th Ave, 1st Floor, Vancouver, BC, Canada, V6P 6P2
Web
www.zaber.com
Email
Please visit our website for up to date email contact information.