Manuals/LAR-E
Jump to navigation
Jump to search
LAR-E Motorized Electric Cylinders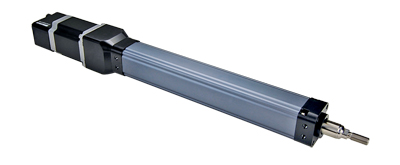 Disclaimer
Zaber's devices are not intended for use in any critical medical, aviation, or military applications or situations where a product's use or failure could cause personal injury, death, or damage to property. Zaber disclaims any and all liability for injury or other damages resulting from the use of our products.
Operation
The LAR-E01T3 electric cylinders are designed to be controlled with any of Zaber's X-Series or A-Series Stepper Motor Controllers. Zaber's controllers and peripherals are designed for ease of use when used together. Optimal settings for each peripheral (such as the default current, speed, acceleration, and limit settings) can be loaded by setting the peripheralid (T:66) on the controller. The peripheral ID is listed as the ID on the peripheral's label. A list of IDs is also available on the ID Mapping page. For more information on device operation, refer to the controller's user manual.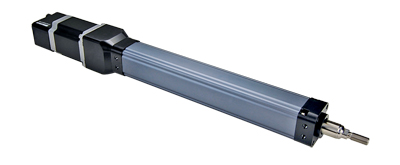 Pinout for D-sub 15 Connectors (A-series and X-Series controllers and peripherals)
| | |
| --- | --- |
| A- or X-series controller (female) | |
| T3 Peripheral (male) | |
| T4 Peripheral (male) | |
| Pin # | Function |
| --- | --- |
| 1 | +5V |
| 2 | Encoder Error **** |
| 3 | reserved |
| 4 | Away Sensor *** |
| 5 | Home Sensor |
| 6 | Ground |
| 7 | Motor B1 |
| 8 | Motor A1 |
| 9 | +5V * |
| 10 | Encoder A * |
| 11 | Encoder B * |
| 12 | Encoder Index ** |
| 13 | Ground * |
| 14 | Motor B2 |
| 15 | Motor A2 |
* encoder embedded peripherals only
** devices with encoders with index only
*** devices with away sensors only
**** devices with linear or direct-reading encoders only
Alternate Controllers
The actuators may be controlled by any 2-phase stepper motor controller with home sensor input. Warning: Operating the actuator without correctly wiring up the home sensor can cause permanent damage to the sensor. We do not recommend using your own controller unless you are familiar with how to control a stepper motor with a hall sensor limit switch. The following information is provided for reference only. Damage to the actuator or hall sensor due to incorrect wiring is not covered by warranty.
Motor
The LAR-E electric cylinder uses a size 23 stepper motor.
3 A / Phase
1 Ω / phase
1.6 mH / phase
Warranty and Repair
For Zaber's policies on warranty and repair, please refer to the Ordering Policies.
Standard products
Standard products are any part numbers that do not contain the suffix ENG followed by a 4 digit number. Most, but not all, standard products are listed for sale on our website. All standard Zaber products are backed by a one-month satisfaction guarantee. If you are not satisfied with your purchase, we will refund your payment minus any shipping charges. Goods must be in brand new saleable condition with no marks. Zaber products are guaranteed for one year. During this period Zaber will repair any products with faults due to manufacturing defects, free of charge.
Custom products
Custom products are any part numbers containing the suffix ENG followed by a 4 digit number. Each of these products has been designed for a custom application for a particular customer. Custom products are guaranteed for one year, unless explicitly stated otherwise. During this period Zaber will repair any products with faults due to manufacturing defects, free of charge.
How to return products
Customers with devices in need of return or repair should contact Zaber to obtain an RMA form which must be filled out and sent back to us to receive an RMA number. The RMA form contains instructions for packing and returning the device. The specified RMA number must be included on the shipment to ensure timely processing.
Email Updates
If you would like to receive our periodic email newsletter including product updates and promotions, please sign up online at www.zaber.com (news section). Newsletters typically include a promotional offer worth at least $100.
Contact Information
Contact Zaber Technologies Inc by any of the following methods:
Phone
1-604-569-3780 (direct)
1-888-276-8033 (toll free in North America)
Fax
1-604-648-8033
Mail
#2 - 605 West Kent Ave. N., Vancouver, British Columbia, Canada, V6P 6T7
Web
www.zaber.com
Email
Please visit our website for up to date email contact information.
The original instructions for this product are available at https://www.zaber.com/manuals/LAR-E.
Appendix A: Default Settings
Please see the Zaber Support Page for default settings for this device.