Template:LC40/Maintenance
Jump to navigation
Jump to search
Warning: This is an "include" page. As such, its contents may be included in multiple other pages. To see a list of all pages that include this page, click on "What links here" in the bottom left navbar. If you make changes to this page, be sure that your changes are appropriate to all pages on which this content will be included. You are also encouraged to review our Zaber Wiki Editing Guidelines. This header will not be included in other pages.
Maintenance
We recommend greasing the linear bearings to prolong service life. Many factors affect the lifetime of the grease and bearings including temperature, contamination, and loading configurations but the following chart provides a guideline. Grease with Shell Gadus S2 V220 2 or similar lithium thickened petroleum grease.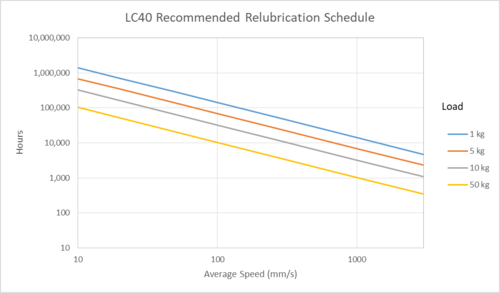 Relubrication Procedure
Contact Zaber support for relubrication kit SG133.